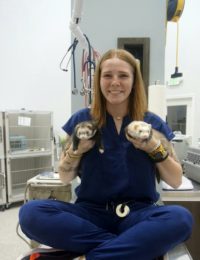 Technician
Favorite thing about your job? Meeting all the animals big and small and helping them to be the best of my ability.
Interesting facts about you? I have an Associates of Applied Animal Science specialty in Veterinary Technology. I am originally from NWA and can play the ukulele.
If I weren't so good at my job, I would be a… Tattoo Artist or Cosmetologist
If I were a superhero, my superpower would be… Shapeshifting or controlling time
If I were an animal, I would be a… Red Panda
My favorite core value about ACAH is compassion because.. you can tell everyone who works here is passionate about their job and only wants the best for anyone and any animal. No matter the case every animal is sent home with the best care we can offer.