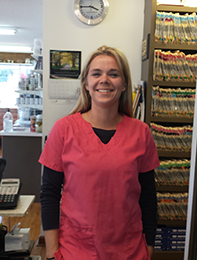 Technician / Receptionist
Tasha, a Hot Springs native, joined the All Creatures family in 2010. She works as a technician as well as a receptionist. Along with the duties she performs on a daily basis, she makes sure she provides care, affection and medical treatment based on pets individual needs. She enjoys answering client questions and helping them understand all the needs of their pets. She is a loving and caring part of the All Creatures team.
In her free time, Tasha loves spending time with her family. Tasha, her fiancé and her son, enjoy camping and fishing, being on the Lake, and other outside activities. She says the best part of her day is watching her son play in his many school related sports.