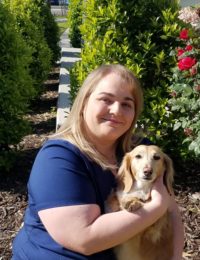 Practice Manager
Favorite thing about your job?
I love being able to help people and animals! I love seeing how happy our clients are when we help their pet recover from illness; I also love being able to help my team learn new skills.
Interesting facts about you?
I am super proud that I am the first person in my family to obtain a Master's Degree; I am also a Dachshund and Mustang fanatic!
If I weren't so good at my job, I would be a…
Actress and I would own probably a hundred or so Dachshunds
If I were a superhero, my superpower would be…
The Ability to Control Time
If I were an animal, I would be a…
Dolphin because they have the ability to explore the ocean and they are just so curious and friendly.
My favorite core value about ACAH is
Compassionate because life is too short to not be compassionate about what you are doing and the people you surround yourself with. I love my work and I love that I work with a team that has the same drive and dedication as I do for our clients and patients.