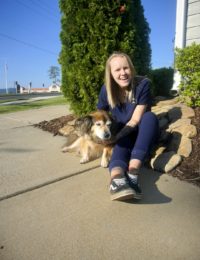 Technician
Favorite Interesting facts about you? Thanks to my job in the field, I have gotten to bottle feed/rehab over 30 baby squirrels, 15 raccoons and a handful of skunks.
If I weren't so good at my job, I would be a… Zoo Keeper
If I were a superhero, my superpower would be… talking to animals.
If I were an animal, I would be a… Giraffe, I have always wanted to be tall.
My favorite core value about ACAH is compassion because…. I love being the voice for the voiceless and showing love to our scared and neglected pets that have never been shown what it is to be cared for.