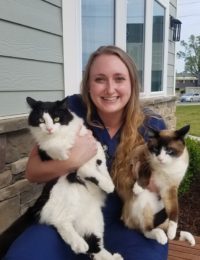 Favorite thing about your job?
Getting to learn everything that goes along with treating all of our patients.
Interesting facts about you?
I love weight lifting, and I am in school working to get my RN.
If I weren't so good at my job, I would be a…
Full Time Student
If I were a superhero, my superpower would be…
Mind Reading
If I were an animal, I would be a…
Cat of Course
My favorite core value about ACAH is
Compassion because I love getting to know our patients and their owners and getting to help during the easy times and the hard times.