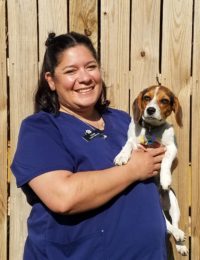 Client Service Representative
Favorite thing about your job?
Being able to work with and help our clients, animals, and coworkers.
Interesting facts about you?
I have a variety of pets. I love hunting and fishing, but horseback riding is my number one passion.
If I weren't so good at my job, I would be a…
Veterinary Technician
If I were a superhero, my superpower would be…
Healing the Sick
If I were an animal, I would be a…
Horse
My favorite core value about ACAH is
Family because I love feeling like I'm a part of a family; I also enjoy feeling valued and like an important member of this family.